Self Serve Coffee to Go Machines 
UK consumers purchase millions of takeaway coffees every day and thanks to innovations in coffee machine technology, this is no longer limited to high street coffee shops. 
A fully automated self-service coffee machine for your retail, forecourt or convenience store delivers barista-quality coffee to your customers at the push of a button. 
Total convenience for your customers and an additional revenue stream for your business.
Benefits of a Self Serve Coffee Machine
Increase average revenue per customer by offering something new
Attract new customers that wouldn't usually visit your store
Provide quick and convenient coffee – no barista required
If you're thinking about investing in a coffee to go machine for your retail, forecourt or convenience store please get in touch with us today – we'd love to hear from you.
Our friendly sales team have a thorough understanding of the takeaway coffee market and will guide you through the process of finding the best machine for your business. With fantastic service at the core of our business, we aim to be as helpful as possible, answering any questions or queries you may have.
Buy or Rent a Coffee to Go Machine
As one of the leading coffee to go machine suppliers in the UK,  Liquidline offer an all-inclusive package. This includes a free sales consultation to help you choose the best self-service coffee machine for your business, free installation and training, as well as providing an ongoing supply of coffee beans and consumables for your customers to enjoy.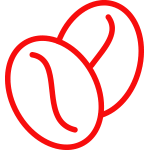 Quality Consumables
Everything you need to deliver quality self-service coffee including coffee beans, disposable cups and more.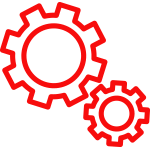 Servicing & Maintenance
Get extra peace of mind with technical service and emergency call-outs in the event of a breakdown.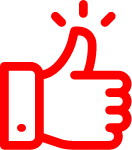 Free Delivery, Installation & Training
A fully project managed turn-key coffee to go solution with minimum disruption to your business.
Our Favourite Coffee to Go Machines
Liquidline offers a broad range of self-service coffee to go machines available in our sleek Café Bonté brand, the exhilarating Breakfluid brand for motor dealerships and extreme sports shops, or customised to your own preferences.
With various machines and station setups available we have a coffee to go solution that will integrate seamlessly with any retail business.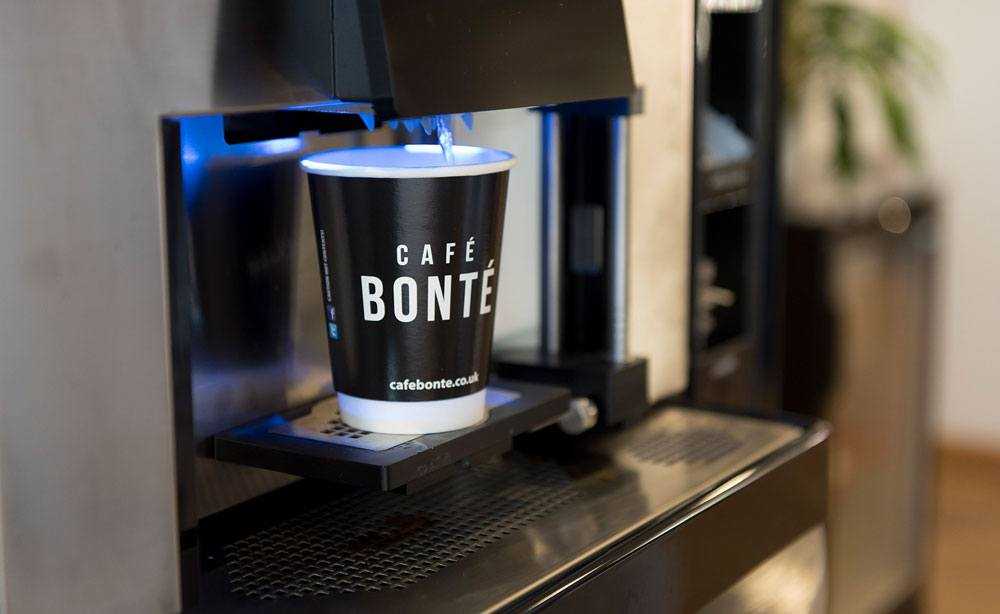 Café Bonté
Our in-house brand of responsibly sourced and expertly blended coffee. From rich roasts to single-origin blends, Café Bonté satisfies the diverse tastes of UK coffee lovers.
Takeaway Coffee Machines FAQ
What is a self-service coffee station?
A self-service coffee station is a retail fixture that features everything a customer would need to brew and serve a delicious cup of coffee quickly and conveniently. This includes the coffee machine itself, as well as housing designed to make your coffee offering stand out in any space.
Our fully automatic self-service coffee machines deliver premium quality coffee at the push of a button. A self serve coffee station can be adapted to a range of different coffee machines including bean to cup, instant coffee machines, coffee vending machines and filter coffee machines.
Traditionally bean to cup machines are situated in a large display stand with a tabletop coffee solution in place. This creates a  statement, gives the customer ample space to get their bean to cup coffee, but also makes the coffee machines easy to refill.
We highly recommend a Schaerer Coffee Soul, Vitro X3, or Cafetouch 8 machine for your seld as these provide coffee shop quality coffee with high volumes for those high footfall areas. This will enable you to easily cope with self-service demand, but still, give coffee shop quality drinks.
Is it worth getting a coffee to go machine?
More than 50% of daily coffee sales in the UK are made on the go, to takeaway. Hot drinks consumers are also extremely loyal, buying at least every other day. As life gets busier consumers are looking for quicker, more convenient solutions for their morning coffee, providing a huge opportunity for convenience stores and forecourts.
What different types of self-service coffee machine are there?
We understand that every business premises is different, so offer a range of machines in different self-service configurations to suit your needs. From compact coffee to go machines that can easily be integrated into your sales counter, to larger units for high traffic store that combine features that drive consumers and maximise sales.