Our complete refreshment solutions are tailored to the exact requirements of your business and include everything you need to serve delicious coffee, tea, juice, water, snacks and more.
We provide exceptional coffee, water, juice and vending solutions to over 8,000 commercial organisations, enabling them to provide welcome refreshments when they're needed most.
With nearly 20 years in business, our experience and expertise are unrivalled, and our passionate team is committed to creating bespoke solutions that exceed your expectations and delight your customers, team and visitors.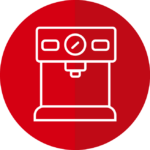 Your Machine
Choose from our range of industry-leading, innovative coffee, water, juice and vending machines that provide cost-effective solutions without compromising on taste.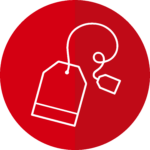 Your Consumables
A range of over 1,000 nation-loved consumable products, ranging from coffee beans and tea bags to cleaning solutions, point of sale, crockery, PPE and more.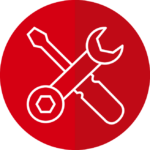 Your Servicing
Never miss a cup with our fully comprehensive service and maintenance plans provided by our nationwide team of engineers with guaranteed response times. 
Thoughtful
We build relationships with our customers (& each other) and we "go the extra mile" for them. We use our initiative to help colleagues and customers. We treat everyone with respectful behaviour and language.
Passionate
We are intense in our love for coffee. We do everything we can to deliver brilliant products and services for our customers. We put 100% into everything we do.
Responsive
We work as a team to exceed customer expectations and needs. We fix issues quickly. We answer emails quickly – at least an acknowledgement within 24 hours.
Innovation
We generate and share new ideas. We analyse everything and look to continuously improve. We boldly embrace change.
Smart working
We work together as one team. We make every minute count. We focus on what matters.
MISSION
Inspiring admiration from those we serve
– our people, our customers and the communities we support.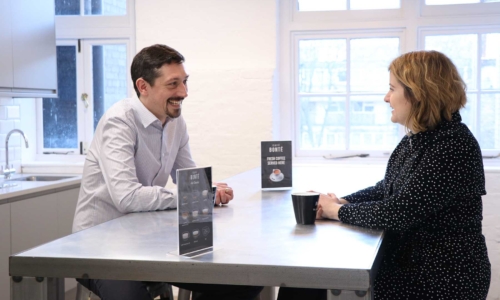 VISION
Enhancing life by creating refreshing 'wow' experiences
for all our customers and the people we work with.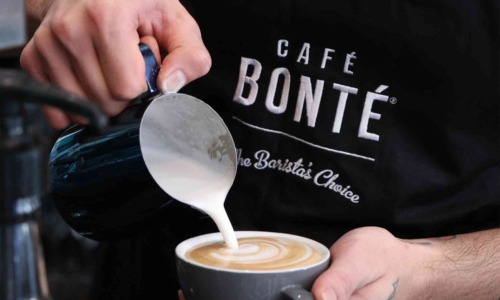 We understand that there are increased demands in busy commercial environments, which is why we lead the way in offering the latest technology to our customers, with coffee machines that are faster, more efficient, easier to maintain, offer more choice and provide the best cup of coffee on the market. Working with leading manufacturers and pioneers of technology, we bring you the best customisable coffee experience possible.
Innovation at Liquidline doesn't just start and stop with technology. Our commitment to continuous improvement means we're ahead of the game in all aspects of our business; from the way we produce our in house coffee beans, the consumables we stock and our own systems and procedures.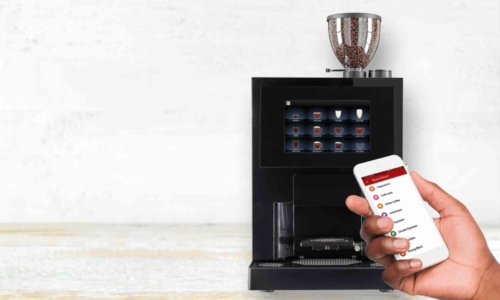 Touchless Coffee
Touchless technology offers peace of mind and allows you, your customers and colleagues to make a drink hygienically and conveniently without having any contact with the surface of the coffee machine.
We have spearheaded the way in touchless technology with a range of touchless options available. Fully customise your drink selection via a smartphone with QR code and app-enabled coffee machines, or choose a gesture operated machine where users can select their favourite drink by simply hovering their hand over the buttons on the front panel of the machine. 

Eco-Friendly Juice
Our Juicetouch range of juice machines offers a plastic-free alternative to traditional bottled juice drinks. 
The innovative bag in box system adds filtered water to highly concentrated juice which is dispensed directly into a reusable glass or sports bottle.
Space-saving and energy-efficient, the Juicetouch is perfect for offering delicious healthy juice whilst saving time, reducing costs and eliminating single-use plastics.

Instant Cold Brew
The cold brew coffee revolution is here, but for commercial organisations, brewing large quantities of cold coffee for between 12 and 18 hours is just not feasible. 
Our Brew'd Nitro Cold Brew machine allows you to serve silky smooth iced coffee and espresso martini in a matter of moments. 
Brew'd nitrogen-infused coffee is free from sugar, gluten, dairy and is only 16 calories. With its high amount of caffeine content, it provides a healthier alternative to energy drinks.